english deutsch español français
Sunday, August 30, 2009
Access map: Access Hiking Tour Masca.pdf
Masca Canyon is located in the Teno mountains in northwestern Tenerife and is cutting various hundred metres into the surrounding landscape. We would like to hike through this canyon with you down to the stony beach. There, you have the choice to either climb up the whole way back to Masca or to go by boat to the village of Los Gigantes.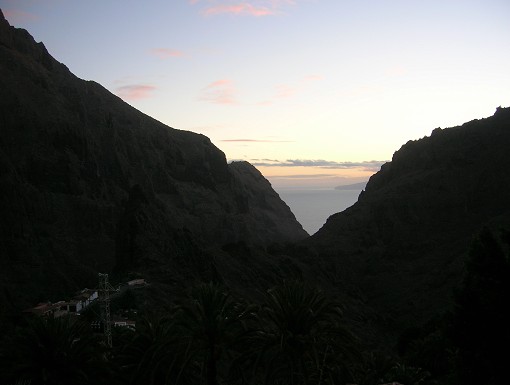 Masca canyon seen from above
The boat trip costs 12€ per person and includes a snack, a visit of the dolphins (which hopefully will be at home that day) and to the cliffs of Los Gigantes. For this option, we recommend you to come to Masca by bus, as otherwise you would need to take a cab to get there in the evening. In addition to that, it might be a problem sometimes to find a parking spot in Masca. If you come by car, you could leave it in Santiago del Teide (Valle Santiago) for the day, halfway between Masca and Los Gigantes.
We are going to provide you with more specific information on this page until summer. We plan to meet in Masca at 1:30 p.m., the boat will leave the beach at 6 p.m., and the last bus from Masca in direction of Buenavista is leaving at 7:30 p.m. The last bus from Los Gigantes to Puerto de la Cruz (via Santiago del Teide) leaves at 9:20 p.m.